IT WASN'T TERRY'S PLAN TO BECOME ONE OF THE PREEMINENT EXPERTS IN ALABAMA ON EVIDENCE ISSUES, BUT FORTUNATELY FOR LIGHTFOOT AND ITS CLIENTS, THAT'S EXACTLY WHAT HAPPENED.
Terry has a very diverse practice that has allowed him to serve as lead counsel and appellate counsel in various matters in more than 20 states throughout the country.  While he enjoys having a diverse practice, his first love is evidence.  Clients, attorneys, judges, and law students seek his advice on evidence issues every day, and Terry's favorite part of his practice is helping people solve their evidence problems.
Terry's passion for evidence began in law school, where he worked for two years as a research assistant for his favorite professor and the original author of the Alabama Rules of Evidence, Dean Charles Gamble.  Shortly after graduating law school, Terry began teaching as an adjunct professor, and he has taught (and continues to teach) evidence courses at Cumberland School of Law, The University of Alabama School of Law, and Birmingham School of Law.  Terry was recently presented Cumberland School of Law's "Outstanding Adjunct Professor Award" for the 2017-18 academic year. He also gives several CLE presentations each year on evidence issues, and he does so with expertise and a little humor.  Terry also serves on the Alabama Supreme Court Advisory Committee to the Alabama Rules of Evidence. His hard work continues to reward him as he was most recently recognized by Super Lawyers as a 2017 Mid-South Super Lawyer.
Perhaps Terry's biggest honor came when Dean Gamble and Professor Robert Goodwin (the current reporter for the Alabama Rules of Evidence advisory committee) recruited Terry to join them as co-author of Gamble's Alabama Rules of Evidence and McElroy's Alabama Evidence. These are the two leading treatises on Alabama evidence, they have been cited in thousands of judicial opinions, motions, briefs, and articles, and are "must reads" for any Alabama practitioner.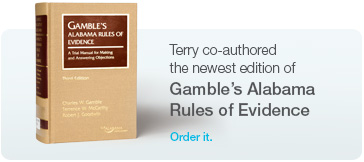 A substantial amount of Terry's practice is devoted to appellate work, which often includes him attending the trial to preserve the trial record and to consult on and argue evidence issues. It has become more common for clients to want appellate counsel to attend trial, and to have Terry present at trial to handle various evidence issues is an added bonus in addition to having him preserve the entire record for appeal.
Another area in which Terry specializes is employment law. His experience includes defending corporations against Charges made to the Equal Employment Opportunity Commission, Title VII lawsuits (including all forms of alleged discrimination), facilities compliance under the Americans with Disabilities Act, prosecuting and defending lawsuits over non-compete agreements, consulting on employee handbooks, and defending cases brought under ERISA.
Terry also stays active in the field of education law. Prior to attending law school, he worked as a university administrator, obtaining master's and doctorate degrees of education, both with a 4.0 G.P.A. He stays active in various education organizations, publishes and lectures regularly in the area of education law, and regularly advises college administrators and Greek organizations.
Terry received his bachelor of business administration (finance) degree from Auburn University. While at Auburn, he served as president of the Student Government Association and was inducted into Spades Honor Society, an honor given each year to the ten most influential seniors. After working as a university administrator and obtaining his masters and doctoral degrees, he attended The University of Alabama School of Law where he was named to the Order of the Coif, a member of the managing board of the Alabama Law Review, a member of the Jessup International Moot Court Team, and a summa cum laude graduate.
Outside of his legal and teaching careers, Terry is an active member of his church and he supports many charities and educational organizations such as Alex's Lemonade Stand, the Greater Birmingham Humane Society, Adopt a Golden Birmingham, Jimmie Hale Mission, and John Carroll Catholic High School.
NEWS
about Terrence
Presentations & Publications
McElroy's Alabama Evidence (7th ed. 2018) (with Charles W. Gamble & Robert J. Goodwin) (forthcoming)
Gamble's Alabama Rules of Evidence (3d. ed. 2014) (with Charles W. Gamble & Robert J. Goodwin)
2013, 2014, 2015, and 2016 supplements to McElroy's Alabama Evidence (with Charles W. Gamble & Robert J. Goodwin)
2013, 2015, 2016, and 2017 supplements to Gamble's Alabama Rules of Evidence (with Charles W. Gamble & Robert J. Goodwin)
The Newly-Created Racial Bias Exception to the General Rule that Precludes Jurors from Offering Testimony to Impeach Their Own Verdict, 78 Ala. 284 (Jul. 2017) (with Callie Brister)
The Admissibility of Social Media/Electronic Evidence in Alabama, 75 Ala. Law. 42 (Jan. 2014) (with Allison Nichols-Gault)
A Guide to Impeachment in Federal and Alabama State Courts, 70 Ala. Law. 44 (Jan. 2009)
1999 Update to "Alcohol on Campus" (with Donald D. Gehring)
The Use of Unilateral Stipulation as a Trial Tactic in Alabama after Old Chief, 50 Ala. L. Rev 237 (Fall 1998)
Numerous evidence presentations to local bar associations and law firms
Speaking Engagements