13 Lightfoot Attorneys Recognized as 'Litigation Stars' in 2018 Edition of Benchmark Litigation
October 30, 2017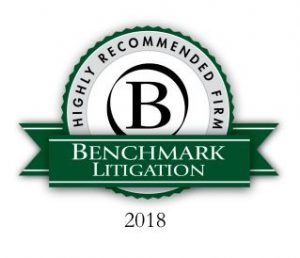 Thirteen Lightfoot, Franklin & White LLC attorneys have been named "Litigation Stars" in the 2018 edition of Benchmark Litigation.
The publication also ranked Lightfoot as a "Highly Recommended" firm in the state of Alabama, and founding partner Sam Franklin is listed as a "Top 100 Trial Lawyer."
The distinctions are based on extensive interviews with litigators and clients. Researchers examine recent casework handled by firms and ask individual litigators to offer their opinions on peers.
The following attorneys were recognized in the publication's 2018 edition:
An annual guide to the leading U.S. litigation firms and lawyers, Benchmark Litigation is the only publication that focuses exclusively on litigation in the United States. Benchmark Litigation is published by Euromoney Institutional Investors PLC.
^ Back to Top