Lessons in Leadership From Lana Olson's 2022-23 Term as President of DRI – Lawyers Representing Business
Lana A. Olson is a Lightfoot partner with a varied defense litigation practice, including matters involving environmental, toxic tort, product liability, catastrophic injury and employment claims. A dedicated member of DRI – Lawyers Representing Business, the largest association for members of the civil defense bar, Olson served as president from October 2022 to October 2023.
Assuming the DRI presidency in October 2022, I had some big shoes to fill left by those who came before me in the role. Each made an indelible mark on DRI as they pushed the organization forward, often through periods of significant change for our association and the civil defense bar. Every DRI president has just one year to help direct this outstanding association, and every day offers new lessons in how to lead and inspire.
That was certainly true for me, and I learned many invaluable leadership insights that I will continue to apply in my legal practice, my work with clients and colleagues, and my roles within Lightfoot.
Leading through change involves taking calculated risks
Legal tech. Hostile juries. Nuclear verdicts. Litigation finance. So much is in flux for the defense bar that it often seems impossible to keep up. The way we practice and handle cases today is markedly different from just a few years ago — and so are the challenges.
As one of the leading organizations supporting civil defense lawyers, DRI plays a crucial role in helping our members navigate this tumultuous period and embrace the opportunities that arise. This demands a leadership style that welcomes change, acknowledges the inherent challenges and maintains a focus on possibilities.
For example, this past year DRI embraced change and took some risks when planning our Annual Meeting. We introduced a new format and added more networking opportunities to the yearly gathering, aiming to enhance the experience for our members. Changing certain aspects of our Annual Meeting was risky but necessary to serve the needs of our members better and provide them with the information and opportunities they need to succeed in their practices.
So, we changed things up and asked people to take that risk with us. Was there some angst in the membership over the change? Yes. Were we unsure how members would receive the changes? Of course. But despite some initial uncertainty, we rolled the changes out in a way that gave members warning and communicated not only why we made the shifts but also the benefits. That communication was vital in assuring everyone that the changes were worth it.
The same applies when defense lawyers guide clients through uncertain times. Companies are facing countless unprecedented liabilities due to technological advances, changes in the law, shifting consumer sentiment and other pressures. As defense counsel, we must serve as calm, informed guides for our clients, embracing change, trying new approaches, testing new theories and adapting our approach to trials in a fresh way tailored to current circumstances.
Good leaders are excellent communicators
Going into my term as president, I knew that communication with the other members of the Executive Committee, our Board of Directors, various committees/task forces, and our membership as a whole would be critical to a successful year — and that was reinforced during my tenure. Especially in times of intense change and mounting challenges, leaders must maintain clear and open communication with stakeholders at all levels. This not only ensures everyone is aware of what is going on but also fosters trust within the group – which a leader must have to succeed.
Effective communication must be two-way. Issuing directives without fostering dialogue is not good communication — or good leadership. Nothing is less inspiring to people than hearing "I" or "my" instead of "we" or "our." A leader must be confident enough to listen first and then engage in good-faith conversations with those expressing genuine concerns, resisting change, or simply seeking a voice in the process. Ensuring everyone understands not just the "what" but also the "why" of a situation is crucial, even if it doesn't lead to unanimous agreement.
Similarly, ensuring that written communications (especially emails!) are organized, concise, and written so they are easily digestible — including next steps or action items — helps ensure they are read and acted upon. As a leader, it is also crucial to communicate expectations so that everyone understands what they are being asked to do and can better work to achieve the organization's goals.
One of the things we worked very hard on this past year was better defining and communicating expectations for various leadership levels in the organization, from the Board of Directors/Officers to those serving in our committee leadership. For our Board, we developed a set of written "Competencies and Expectations" that provide better transparency about the hard/soft skills and attributes desired in the Board of Directors, as well as a clearer understanding of the key things that our Board members must do during their term. Not only does this benefit our current Directors, but it serves as a leadership pipeline aid to ensure that we are training and mentoring our up-and-coming leaders so that they understand what is expected of them before they get in the Board room.
For defense lawyers, communication is our bread and butter, extending beyond the courtroom to our work with in-house counsel, extended legal teams of outside counsel, and other stakeholders. Navigating these relationships demands a deep understanding of personal dynamics and not just the law at issue in a case. There are likely to be as many opinions and conflicting interests on a matter as there are firms and lawyers involved. Again, true leaders will ensure all voices are heard, and everyone understands the "why".
Leaders can have a sense of humor, not take themselves too seriously, and make participation in leadership fun
Serving in leadership doesn't necessarily have to be rigid, formal and super serious all the time. Some of the best brainstorming sessions and discussions I've led took place after wearing a silly hat, showing a funny PowerPoint, or engaging with a group in a way that helps people think creatively in a safe space where ideas and thoughts can be shared comfortably and without fear of rebuke.
At a recent meeting, for example, we wanted to talk with our Board about the importance of the position and the expectations of such a key leadership role. While it was a "serious" topic, and I said as much, I was able to better engage the Board in the discussion by wearing a banana-shaped hat and then putting that hat on various Board members as they were called on to give their thoughts and ideas on the topic.
Leadership, even when challenging, can and should be fun (at least most of the time).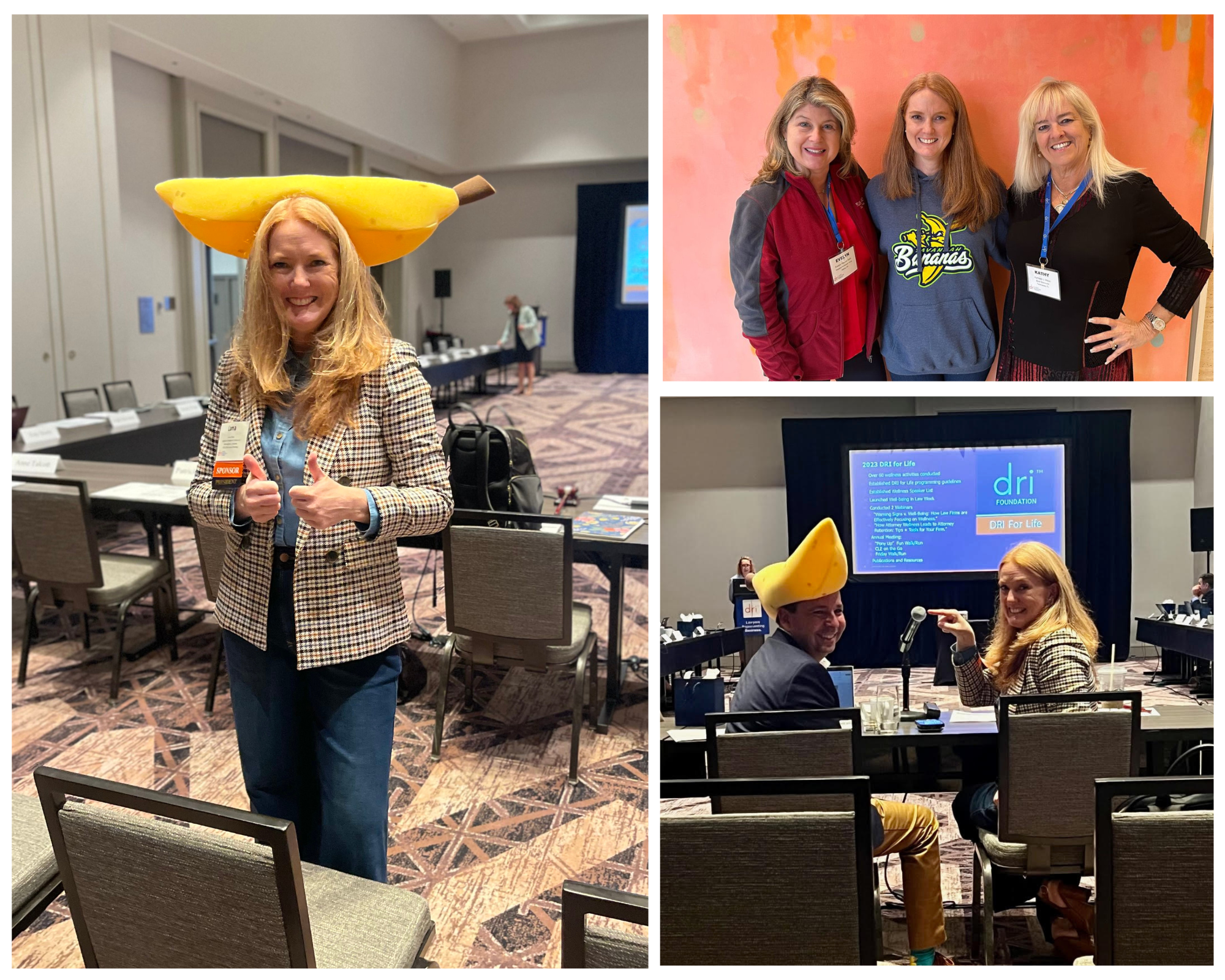 Leaders are lifelong learners
I've always challenged the notion that a leadership title or a lengthy legal career automatically equates to solid leadership skills. The true leaders I know see leadership as a continuous journey of growth and learning that is never complete. There is always something more to learn, from seeking coaches and sharing experiences with fellow leaders to looking beyond the legal field to other industries for inspiration and consistently asking for feedback.
We also can't be afraid to try new things. Some approaches may fail or not suit our style, but it's essential to experiment and see what works. That's the only way to grow.
My tenure as DRI president was one of the best professional experiences of my life. It was a privilege to serve as president of such a fabulous organization that provides much-needed resources for today's civil defense lawyers. The past year was an enriching experience that provided many opportunities for personal growth and learning. I look forward to my continued journey with DRI and learning how to become a better leader in my work as a defense lawyer and as an advocate for my clients.
^ Back to Top