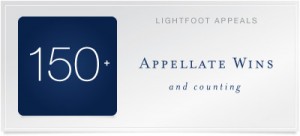 Lightfoot has extensive experience in all areas of appellate litigation, from interlocutory issues that may arise during the course of litigation to all aspects of post-trial activities. We have appeared in hundreds of matters in various appellate courts resulting in hundreds of published opinions. Those opinions have included reversals of multi-million dollar judgments, numerous successful mandamus petitions, and numerous outright reversals of class certification orders.
In addition to handling any appellate matter arising from cases in which we serve as trial counsel, we are regularly retained as appellate counsel to handle post-trial motions, arguments and other aspects of appeals in verdicts ranging from $500,000 to over $3.5 billion. We have also been retained to preserve favorable verdicts obtained in the trial court and to consult with attorneys during trial to ensure that key issues are preserved properly for appeal. Further, our lawyers with expertise in particular disciplines are called upon from time to time to prepare amicus curiae briefs on behalf of industry groups, educational institutions and governments.
Representative appeals include:
State of Alabama v. Exxon Mobil Corporation – We were retained by Exxon Mobil Corporation to handle the appeal of a jury award of over $3.5 billion to the State of Alabama in this case involving allegations of breach of contract and fraud relating to oil and gas royalties. The Alabama Supreme Court reversed and remanded for a new trial. Our firm led the trial team when this case was retried. After four weeks of trial, the jury returned a verdict for $63 million in compensatory damages and over $11.5 billion in punitive damages. After hearing Exxon Mobil's post-trial motions, the trial court entered an order upholding the jury's compensatory damage award and reducing the punitive damage award to $3.5 billion. This second judgment was appealed to the Alabama Supreme Court, and Lightfoot partners Sam Franklin and Chris King presented the oral argument before that Court. In an 8-1 decision, the Court reversed the punitive award in its entirety and remanded the case with the instruction that the compensatory award be reduced to $51 million plus appropriate pre-judgment and post-judgment interest. On remand, a new dispute arose as to the effect of several statutes which could be said to provide for interest on the award. The trial court entered judgment in the amount proposed by Exxon, and the State appealed to the Alabama Supreme Court for a third time, arguing it was entitled to an additional $23 million in interest. In another 8-1 opinion, the Court affirmed the trial court's ruling in Exxon's favor and finally ended this nine year old litigation.
Jernigan vs. General Motors Corporation – A Bullock County, Alabama jury returned a verdict of $122 million against General Motors in this crashworthiness case, and we were retained post-verdict. The trial court remitted the verdict to $82 million pursuant to Alabama's tort reform statute, following which General Motors appealed. Following our argument in the Alabama Supreme Court, the Supreme Court reversed and remanded the case for a new trial. The reversal was based in part on the trial court's failure to strike five jurors for cause after it was revealed in voir dire that the jurors had relationships with plaintiffs' counsel.
Coulter v. Finebaum – The trial court denied the defendant's motion for summary judgment in this slander/First Amendment case involving radio personalities. Defendant filed an interlocutory appeal, which was denied by the Supreme Court of Alabama. We were retained by the defendant to apply for rehearing, and on rehearing the Supreme Court accepted the case, and reversed and remanded with instructions to enter judgment in favor of the defendant.
Piazza v. Coopers & Lybrand – We served as both trial and appellate counsel for Coopers & Lybrand (now PricewaterhouseCoopers) in this proposed class action. The trial court certified a class of plaintiffs in 37 states against Coopers and other defendants alleging violations of ERISA and Alabama law regarding the valuation of the employer's stock. On appeal, the Eleventh Circuit reversed the trial court and decertified the class against Coopers. The Eleventh Circuit further found that the class representative's claim against Coopers was barred, thus effectively dismissing Coopers from the case.
Wright, et al. v. Brookwood Medical Hospital, et al. – A Jefferson County, Alabama jury awarded the plaintiff $12,000,000 in this wrongful death case after decedent committed suicide while a patient at Brookwood Hospital. We were retained to handle the post-trial motions and appeal. Lightfoot attorneys handled the post-trial motions and the appellate briefing. The case was settled during the pendancy of the appeal for a confidential amount.
State of Alabama v. Sandoz – The firm was retained before a trial to protect the appellate record and prepare for the eventual appeal of this case involving claims by the Alabama Medicaid Agency that it had overpaid for generic drugs as a result of artificially inflated prices published by Sandoz. After a $78.4 million jury verdict, the firm prosecuted the appeal in the Alabama Supreme Court, which reversed the trial court judgment in its entirety and rendered judgment in favor of Sandoz.
Sullivan v. Avondale Mills – We were brought in post-verdict by Avondale Mills after a jury returned a $52 million verdict against Avondale Mills and its codefendants. After we argued the case in the Alabama Supreme Court twice, the Court reversed and rendered the case in favor of the defendants.
Treibacher Industries AG v. Allegheny Technologies, Inc. – We were retained post-verdict by plaintiff Treibacher to retain a verdict in excess of $5.3 million obtained in federal court in a breach of contract and fraud case involving the interpretation of the United Nations Convention for the Sale of International Goods. The Eleventh Circuit affirmed the verdict in a published opinion.
Perez v. South Alabama Brick Co. – Lightfoot was retained to appeal to the Alabama Supreme Court a $12 million judgment against South Alabama Brick rendered after a bench trial. Almost two years after briefing was concluded, the Alabama Supreme Court reversed the judgment and remanded the case for entry of a judgment in favor of South Alabama Brick on all claims.
Crestview Memorial Funeral Home, Inc. v. Gilmer – A Jefferson County jury returned a verdict of $350,000 in compensatory damages and $3,000,000 in punitive damages against a funeral home in a case arising from the alleged treatment of a body. Lightfoot was retained post-verdict and, on appeal, the Alabama Supreme Court reversed the jury's verdict and remanded the case for a new trial.

Upon request, we will provide a complete list of the cases for which we have been retained post-verdict, along with the result. Please also visit our blog devoted to civil appellate issues and developments in Alabama, Alabama Appellate Watch.